This NEW summer course taught in Heraklion (Island of Crete, Greece) is a collaboration between the University of Southern California (USC) and the University of Crete (UoC).
The course consists of a foundation series followed by a themed practicum. The practicum is optional for UoC applicants.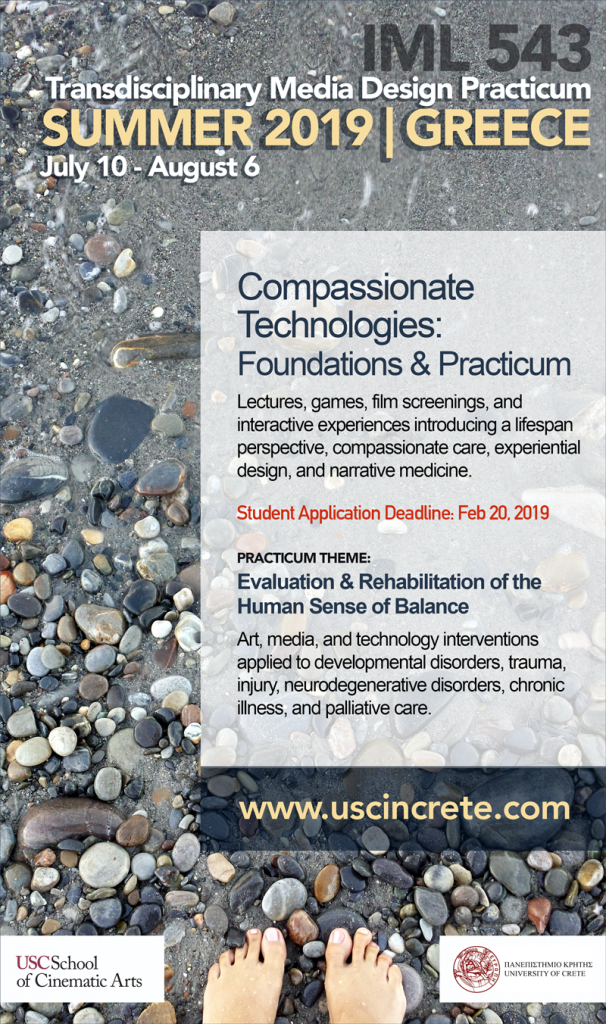 Foundations & Practicum Description
Lectures, games, film screenings, and interactive experiences introducing a lifespan perspective, compassionate care, experiential design, and narrative medicine.
Practicum Theme: Evaluation & Rehabilitation of the Human Sense of Balance
Art, media, and technology interventions applied to developmental disorders, trauma, injury, neurodegenerative disorders, chronic illness, and palliative care.
How do I enroll in the course?
USC students must apply by February 20th to be eligible to enroll to the IML 543 Transdisciplinary Media Design Practicum course. UoC and other students from Greece must apply and enroll to the UoC Summer Programs (check back after Feb 20th, 2019).
Course Duration
USC and UoC participants will work together in-person from July 17-25.
UoC participants will have to apply separately if they wish to proceed with the practicum portion of the course which ends July 31.
USC students have extra meeting and deliverable requirements the week before and after the core program (starting July 10 and ending August 6th).